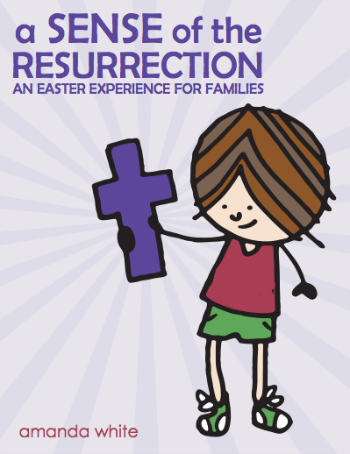 Did you know Easter is just about 5 weeks away? Crazy-town!
Before we jump into Easter baskets and candy, let's think about taking time to share about the true reason for the holiday with our kids. I'm really excited my friend Amanda, author of The Truth in the Tinsel, has now released a family study for Easter to make it all super simple for us.
A Sense of the Resurrection includes 12 activities focused on one of the five senses–for example, smelling the perfume Mary used to anoint Jesus' feet, hearing the rooster crow after Peter's denial. It's only 12 activities and the activities are not so crafty–they are big memory-makers (like making bread for the Last Supper).
I'm really looking forward to walking through this with my girls. Truthfully, I don't know if Emma will be into doing something like this next year. I definitely want to take time to make special memories talking about our Savior's resurrection and Amanda makes it oh so easy for us.
Go buy A Sense of the Resurrection now!