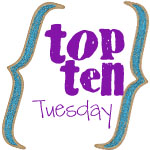 I've been wanting to do this list AND participate in Top 10 Tuesday. But somehow never put the two together?  Who knew?
I have to give this with the qualification I haven't tried every single recipe in the book but I think I've hit 90% of it.  I'm judging simply by the mmm factor taking into consideration I would eat desserts 8 times a day as well as ease of recipe and frequency you make it.  Also judging by how quickly my brain pulled it out of thin air.  So here's my list so far:
1 – Tomato Soup
This gets such high marks because it's so delicious and so easy.
2 – Chicken Pot Pie
This is a tummy pleaser for sure.  It takes a little more work because of the crust and time but once you're familiar with it, it's pretty easy.
This is so high on the list because I could eat it with a spoon and try to find every reason to eat it again.  It's not in the cookbook either but did I mention it's yummy?
4 -Tomato Basil Pizza (including her Pizza crust recipe)
Best homemade pizza ever.
5 -Best Lasagna Ever
I feel like a real cook when I make this.  No can of spaghetti sauce included! It's not the easiest thing ever but it certainly is yummy!
6 -Mocha Brownies
By far my favorite dessert recipe in the book.  The inch thick icing is just sinful!
7 – Onion Strings
I could eat these for a snack pretty much any time of the day.  They are salty and crunchy and for once I don't feel like I'm missing out on not buying a Bloomin' Onion somewhere
I only made these once.  They are sinful.  Period.
9 – Jalapeno Poppers
This is a great party snack.  Even people that don't like jalapeno should like these.  And something about wrapped in bacon and a toothpick make me feel fancy.
10 -Sour Cream Pancakes
My favorite breakfast…besides bacon.
If you'd like to see all the recipes I've done, check them out here
Also, go buy her cookbook!
And check out more Top Ten Tuesday at ohamanda.com!