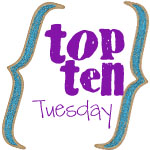 Today's Top Ten Tuesday is a little different.  I blogged on the conference itself but we did get to do just a tad of visiting around Lexington.  I thought I'd share a few pictures.  It's a good thing this is only a list of 10 because that's just about all the pictures I took. 
May I just say if you cut Lexington open, it's blood would run blue?  Everything was blue.  I'd like to say it was all because of University of Kentucky but I think it's just living up to the name Bluegrass State.  But, seriously.  Everything was blue.
After God showed up
at The Uprising
     Scott and I headed for the highly recommended deSha's. 
Do you see that?  That's yummy blue cheese dressing and some seriously good corn bread back there.
The steak and potatoes were yummy, but uh, the beans looked just like that when we left.
Just on the other corner downtown Lexington proudly displays their fountain.  I had more than one local mention them.  We had a very random stranger take our picture.
Just a snippet of the fountains.  Charlotte actually has a very similar set of fountains.  It felt like home.
On the way back to the car I spotted this cutey, cute Prom number in a dress shop window.  I'm not sure I'd let my 16 year old wear it.   But it was cute.
Besides, a true Lexington girl would wear blue.
See?  Even the local police officers have the blue thing down.
Horses might be the other thing Lexington bleeds but sadly, I did not get any pictures.  But oh, the fences and pastures and horses and races and barns.  Lexington loves their horses.
Lexington treated us well (except for the crazy traffic!)
So tell me, have you ever visited the Bluegrass State?
See other Top Ten lists over at ohamanda.com