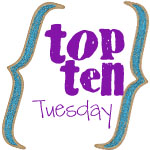 I have enjoyed watching exactly ZERO TV this summer.  Yes, Friday Night Lights was on NBC but honestly that Friday night schedule didn't work out for me too well.  I would really like to continue the no TV into the fall but I really do love these shows.  Many I will DVR and watch later but this is my list for now.
1. Monday – Lone Star
This is a new one with "Tyra" from Friday Night Lights.  I can't NOT check it out and all the entertainment blogs are raving about it.
2. Monday – Hawaii Five-0
Former LOST star turned police officer?  I'm in. But I'll ditch it fast if it's not amazing.
3. Tuesday – Parenthood
Parenthood is funny and dramatic and real.
4. Tuesday – One Tree Hill
Well, duh.
5. Tuesday – Glee
This one honestly could come or go.  Even last season I was mainly watching from DVR and it's another I'll ditch if it's not amazing.
6.  Wednesday – Hellcats
I have to check this one out at least.  I loved Bring It On and I love Ashley Tisdale.  Plus it has One Tree Hill alum Robbie Jones.
7. Wednesday – Modern Family
Not to be missed!  Hilarious TV!  Also one of of few shows Scott and I will watch together.
8. Thursday – Vampire Diaries
Going into this season, it's one of my favorites.  Drama!!
9. Thursday – My Generation
This one is going to be interesting.  Two Friday Night Lights alums are in this and I definitely want to see what it's about.
10. Thursday – Grey's Anatomy
Um, hello?  I'm an original Grey's fan.  Watch it.  Own it.  Love it.  Seriously.
And optionally Dexter.  I don't have Showtime so I won't be able to watch but if people start chattering about how good it is, I might have to break down and get it for a few months.
Obviously, I'm a drama fan!  With endless time, there are many more fabulous shows I would like to add (Lie to Me, Big Bang Theory, Chuck, The Middle, House, How I Met Your Mother) but 2-3hrs/night is already too much!
What's on your must-see list for the fall?  What am I missing? I found FNL from a comment on my list last year!
Check out more top ten lists over at http://ohamanda.com