Two of my favorite things in this world are couples in love and blogging. And when you put those two things together? Consider me charmed.
I read a lot of blogs but always have a special place for couples that blog together. A couple that blogs together, stays together? I don't know about that, but I DO know they're fun to read and I want to share with you in case you might be missing out on the bloggy love.
While nearly all bloggers write with the support of their spouses, I picked couples that consistently blog together. And so, in no particular order, the Internet's Best Blogging Couples:
The Pioneer Woman
(photo courtesy of The Pioneer Woman)
Let's start out easy here, shall we? The Pioneer Woman and Marlboro Man were my first blogging crush. In fact, I still remember my friend Carolyn sharing a link to the Black Heels to Tractor Wheels series she was writing so many years ago on her blog which is now captured in her book of the same name. I couldn't get through their story fast enough—it totally tortured me to wait so long between installments.
While most people know Ree for her food, I would say their love story is actually what hooked a lot of people to her blog.
Four kids later, I love how she still talks about his chap-wearing backside and chiseled forearms.
The Lettered Cottage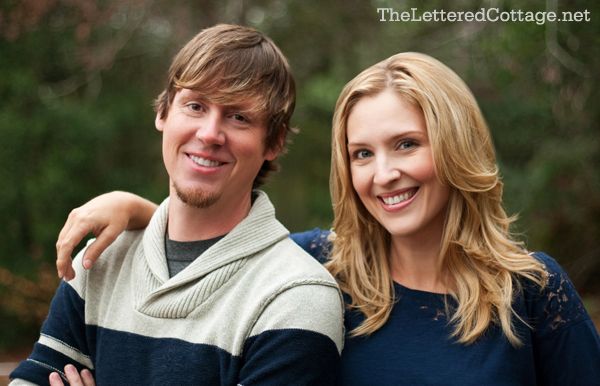 (photo courtesy of The Lettered Cottage)
Kevin and Layla make up the cottage-y design blog The Lettered Cottage where they share their design escapades and life stories. You may know Kevin as the photographer of the site and also one of the guys behind ShootFlyShoot that I love so much. Layla is the ninja designer behind the site.
Kevin and Layla are ridiculously talented and adorable and way too cool for school. I have a total couple crush on the two of them.
Funny enough, Layla has helped Pioneer Woman with some design work in the past. Maybe all of us can triple date and hang at Ree's ranch one weekend? Hello? Anyone?
House of Rose
(photo courtesy of House of Rose)
I've only recently started following House of Rose but I've quickly become a fan. House of Rose is a lifestyle blog of Mandy's but her husband Jeff (who also runs his own site GoodFinancialCents.com) often posts as well. They run Dollars and Roses together where they talk about their blogging income from their individual sites (which is massive—go learn from them).
I love how much fun they are and since this is a professional gig for them, everything is top-notch quality.
If you know their history (must-read)—things weren't always "coming up roses" for them and seeing how far they've come makes following them even better. And, if you haven't checked out Jeff talking about what it's like to be the husband of a blogger, you simply must.
Young House Love
(photo courtesy of Young House Love)
Sherry and John of Young House Love are serious DIYers. They even wrote a book about it!
They're funny and talented and you can't help but love these two as they transform their houses. Go see house tours of their 3 houses. Just recently, they brought their new back deck to life of their current house.
Bonus: they're friends with Katie Bowers, who runs another of my favorite blogs, Bower Power.
The House of Smiths
(photo courtesy of The House of Smiths)
Shelley and Cason are a duo that run a DIY site—The House of Smiths. You may recognize her site from the insanely cute pantry she redid a few years ago.
The pantry is just the start of their awesome projects. Just last week, Cason jumped on the blog to talk about how to install a doggy door. And Shelley always has fantastic Favorite Things posts (she's the one I found my awesome iPhone cord through).
Shelley is also a serious Instagrammer and I love the bits of life you get to share of the two of them and their 3 daughters. They are a seriously cute couple very much in love with an adorable family.
RefineUs
(photo courtesy of RefineUs)
Justin and Trisha Davis run their ministry site/blog RefineUs.org together. After a brutal season of infidelity and near-divorce, Justin and Trisha now help other married couples through their ministry Refine Us which includes a book, personal coaching, and weekend retreats.
It's fantastic watching them work together knowing what they've overcome. Just recently, Justin turned 40 and Trisha shared a letter she wrote to him in 1994. Adorable!
I'm sure you can already see what lovely couples they all are and why I'm smitten with all of them. They work hard and laugh hard together and it's a joy to watch. Be sure to follow through to their blogs to subscribe away. I just know you'll enjoy them like I do.
Now, I just need to finally convince Scott to jump on this blogging bandwagon with me!
I know there must be a ton more blogging couples out there and I'd love to meet them. Who would you name the Internet's Best Blogging Couple?
Don't forget to share this with a friend that might enjoy some bloggy love!